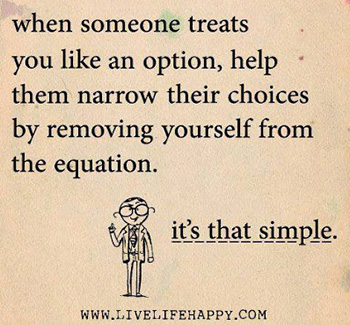 What if the meme in this image is reinforcing a dangerous shortcut?
What if, instead of cutting the person out of our lives...
We can practice self empathy and ask ourselves:
What is my unmet need? Ah I have a need for connection that is not getting met
.
Saying to our friend: "I would love to connect more with you. Would you like to find some other ways we
both
enjoy being together?"
OR empathy:
Ah. He/she seems pretty busy. What needs are they getting met or wanting to get met? Need for space? Efficiency? To be seen? To express? Connection with community?
Saying to our friend: "Are you doing _____ in order to get need for _____ met?"
With the primary goal being to first understand
their perspective
, without demonizing their preferences.
That all said, I understand that quite often we have already tried empathizing and are still not being heard. So yes, there is a point where it is best to disengage. Sometimes it can be really hard to know when that point is. Here it is important to be sure we really did use empathy and that
our words truly came across as empathy
. Did we share from the heart? Was our message fully without shame, guilt, blame, and demands?
#empathy #compassion #communication #nvc #nonviolentcommunication #relationships #responsibility #voluntaryism #liberty