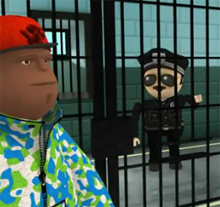 Satire skit about liberty:
Jesus is arrested for talking in the park about love and not wearing underwear. A boy is arrested and locked up for violating the new Loving Your Brother Means You Hate the State and Might Be a Terrorist law. Officer Stadenko speaks up.
2 minutes, 47 seconds long.
Rated PG.
Tags: #terrorism #hr347 #freespeech #law #facism #civilliberties #civilrights #activism #1984 #obama #homelandsecurity #ronpaul #privacy #censorship #cispa #internetcensorship #webanimation #animated #animation #Acapulco #jenniferlawrence #hungergames #incarceration #jesus #jesuschrist #jail #love #nvc #nonviolentcommunication #sarcasm #nudityTerrorism, HR 347, Free Speech, law, facism, civil liberties, civil rights, activism, 1984, Obama, Ron Paul, Mitt Romney, Fear, Homeland Security, privacy, Internet Censorship, web animation, animated commercials, animated intros, animated intro, animation production, Acapulco, Jennifer Lawrence, Hunger Games